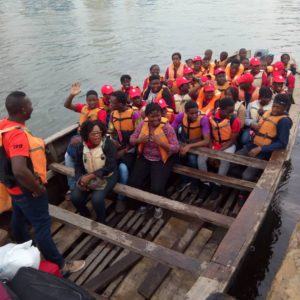 On Sunday the 27th of May, I, my classmates and some SS1 students of Halifield Schools set out for our week long leadership and citizenship training camp at Sea School Apapa. Our school bus could only get us as far as Apapa Quays because the Sea School Camp is located on an island with no road access. We had to board a boat to the camp on Snake Island.
On arrival we were immediately tasked with some fitness drills even before we registered. Students from other schools around the country were also at the camp. At lunch we used special plates called 'Mesh Pans' and were divided into four watches i.e. Adamu, Adewole, Gandonu, and Slesor.
At dinner, I was choosen as leader of Gandonu Watch for the next 24 hours. We settled into our rooms, and had an event in the evening where we sang songs after which we retreated to our rooms for lights out at 10:00pm.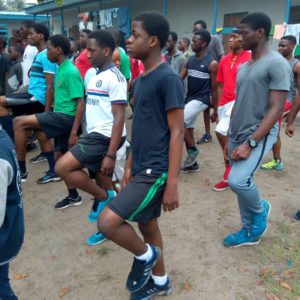 SEA SCHOOL DAY 2
The next morning, we were up very early to brush our teeth, had our morning devotion by 6:00am and morning fitness drills by 6:30am. After that, we took a tour of the entire island to familiarize ourselves with the place and learn all the names of all the locations and gadgets. Breakfast was 7:00 am after which we retreated to our rooms to clean them for inspection.
During that day, we had marching drills, held a dancing contest and listened to a seminar by Mr. Tajudeen Mustafa. He taught us about being a good leader. Edikan and Ivy represented Halifield Schools during the dance contest. Once the seminar was over, the watches split up to play an observation game, where we had to answer questions and retrieve items. After game time, we had our baths and some free time till dinner time at 7:00pm. The next activity after dinner was ''Know Your Neighbor'', where we had to talk briefly on ourselves.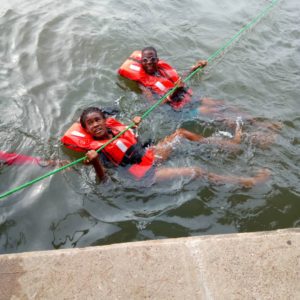 SEA SCHOOL DAY 3
Our morning activities were the same on day three except that our physical training was on the Grant Training Ground. After breakfast and inspections, we headed to the Assault Training Ground for some intense physical drills. We even had to crawl through the mud then we listened to a talk on ''Sex Education & Sexual Immorality''. We learnt the value of virginity and how to keep ourselves for God's chosen one in our lives. At 4:00pm, we moved to the jetty for our much anticipated swimming lesson, A.K.A ''Baptism''. It was one of the most fun parts of our time at the Sea School Camp. We had free time until our dinner, and then we split into our various watches to begin practicing for our drama before bedtime.
To be continued …. in THE SEA SCHOOL EXPERIENCE – Part 2
Oluwatoyin Benson
Head Boy 2018/19 session