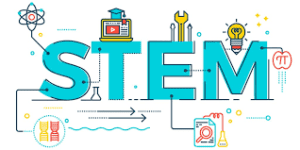 STEM – Science, Technology, Engineering, and Mathematics. As part of STEM education, students engage in hands-on activities that use and develop their skills. Skills such as for questioning, problem solving and teamwork all the while addressing relevant, real life issues.
In a STEM environment, teachers take the role of a classroom facilitator and act as a guide to students. They help them by creating lessons and projects that guide students toward proficiency in the content of the curriculum. The goal is to develop proficient and literate students in science, mathematics and technology.
THE RESEARCH ON STEM
There is a lot of research to support the benefits of STEM education, but there are some challenges as well. Most students begin STEM at their secondary school years and they stick with it through college and into their careers. However, for many other students it is simply too late by that time.
Research also shows that by the time they reach upper elementary and by junior secondary, more than 50% of students have lost interest or they have deemed science irrelevant to their future education and career plans.
It would seem that an earlier emphasis on these subjects in the elementary school years can be beneficial in creating a lifelong love for science subjects.
Clubs dedicated to Science, Technology, Engineering and Mathematics are a fun and exciting way to help children explore the subjects outside the curriculum.