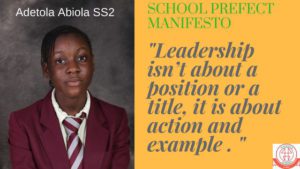 Good Afternoon the HOS, Vice Principal, Teachers and Students. I am here to present to you what I intend to do when I become a school prefect. Being a school prefect to me, means being responsible, hardworking, honest, intellectually sound and trustworthy. I believe I possess all these qualities. This is my school prefects manifesto
Academically, I thrive but I believe that there is room for improvement. This responsibility will serve as additional motivation for me to shoot for a 100% average performance.
MY SCHOOL PREFECTS MANIFESTO – ACTION AND EXAMPLE
Leadership isn't about a position or a title, it is about action and example. As a prospective leader, I will ensure that I lead by example. I will continue to obey school rules and ensure that all other students do the same. This I can achieve with the help of school authorities and fellow prefects
Complaints will be attended to promptly so that students can continue to believe in and love our school. Furthermore I will ensure that complaints that are not in my power to change are passed on to the school authority. I strongly believe that this would eventually lead to an increase in population.
In my current leadership position, I focus on maintaining orderliness in the school. I control the noise level and ensure everyone around me obeys the school rules.
A leader takes every opportunity to make a difference. Hence, this opportunity will be a good platform for me to make a difference in Halifield Schools.