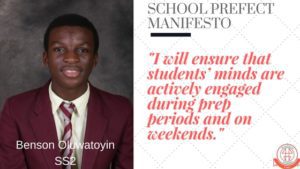 Good afternoon Head of Schools, Vice Principal, Management staff, Teachers and students. My name is Oluwatoyin Benson. I am in SS2 and I'm here to explain why I deserve to be a prefect of our prestigious institution.
As an academically sound student, I am one of the most recurring names on the schools' achievers list. I have represented the school in countless events and competitors. The CERTIPORT ICT COMPETITION, where I placed 4th in Lagos state, the Cowbell Collegiate Math competition, multiple relay races and the school Olympics event just to name a few. This has helped me become well rounded.
My teachers and peers can also testify to the fact that I rarely get in trouble. This is because I know that following the rules is the only way to uphold the Halifield standard that makes the total human being.
WHEN I BECOME A PREFECT…
When I become a prefect, I will usher in an era of noiselessness that will continue for years to come. With the help of my future colleagues, I will make learning more interactive and fun for students, to siphon off their restless energy that otherwise would cause a ruckus in the school.
I also intend to ensure active participation in sporting competitions for students. Football, Basketball, Track and Swimming are areas of interest that I know students will love to be more involved in.
We, as students can do a lot better academically because we are enriched by Halifield Schools with intelligent minds. I will ensure that the students' minds are actively engaged on weekends and during night preps, where students seem to become more distracted and sluggish.
So, choose me because:
I am academically sound and willing to improve even more.
In physical, mental and social activities, I excel.
I am well behaved in all my endeavors
and I am willing to do what it takes to put Halifield on top.
Thank you.