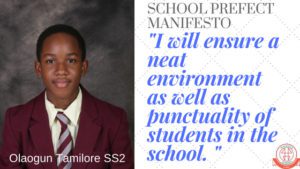 Good day Management, Teachers and Students. My name is Olaogun Tamilore. Being a school prefect is an honor to any student. It shows that the school believes in your ability to lead your peers and juniors. It is important that the school picks the right person. I, Tamilore Olaogun, am able to take up the mantle of being a school prefect in Halifield Schools.
I have witnessed and experienced prefects succeed and fail over the years in Halifield Schools. This has given me an edge and I know exactly how to help the school. I hereby promise to do my best to assistant staff and visitors of the school. We, the prefects elect will do everything in our power to ensure a neat environment as well as punctuality of students in the school.
A GOOD SCHOOL PREFECT IN HALIFIELD
I would ensure students wear appropriate uniforms at all times and be a role model for others. As a team, we prefects will bridge the apparent gap in communication between seniors and juniors and remove any form of bullying. We can do this by ensuring we are approachable by junior students.
Of recent, there have been complaints that we don't go for enough external competition. This   can be resolved easily by discussing with the right authorities and proper planning.
Academically, I can boldly say my results are well above satisfactory level and I am more than capable of maintaining this grade and even challenge those at the very top of the academic spectrum.
All things said, the final decision rests with you. I have done my best during my time in Halifield to prove that I am an able and willing leader. Now, it is up to you to give me a chance to lead the school with the other prefects to greater heights.
Thank you.