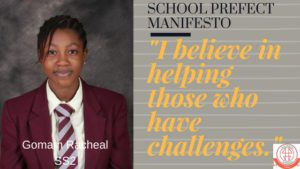 "The ultimate measure of a man is not where he stands in moments of convenience and comfort, but where he stands at times of challenge and controversy''. – Martin Luther King Jnr. Good Afternoon everyone, the HOS and Vice Principal, the Teachers and Students. My name is Rachel Gomam and I am here to convince you about my capacity as a school prefect. I am a true born leader ready to take on this post.
As a student of this great institution, I have imbibed its core values and try to portray them. I won't make promises that I know I'm incapable of fulfilling but here's what I can say to convince you. I have seen and I have heard, I have watched and I have learnt from my predecessors and teachers.
My pledge as a school prefect
Academically, I am sound and I believe in helping those who have challenges. This is one thing that I want to introduce. We as students should be able to help one another. We should be our brother's keeper.
As a school prefect,  I will do my best to reduce noise level in the school, helping the management to ensure orderliness in the school. To help cultivate the growth of the school, I will come up with new activities that will keep students positively engaged. To set good examples for the students, I promise to do my best.
Elect me as a prefect and be rest assured that misusing of power does not exist in my duties.