COMMUNITY SERVICE – THE MENDE CHILDREN PARTY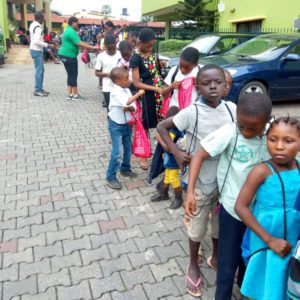 On Saturday, 9th June, 2018, the Earth Trooper's Club hosted a fun-filled and exhilarating party for Mende Children. The party is one of the annual community service activities of the Club. The Earth Troopers Club was established and is run by students of the School. Its aim is to positively affect the society through community service such as giving to orphanage homes, cleaning the environment, and reaching out to the less-privileged children.
This year, over 600 less-privileged children in the Mende area stormed the school premises from the early hours of the morning to participate in the party. The party started at around noon on the School's sports' field.
The arrival of costumed characters like Spongebob got the children very excited and exuberant as they eagerly tried to beat one another to a handshake with the characters. The costumed characters kept the party alive as they were visible in all the activities and games.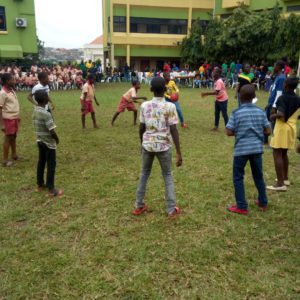 The children participated in various games held during the party. There were games such as Musical Chairs, Hot Potatoes, Shaku Shaku Challenge, Football Display, Talent Hunt among others. All winners were awarded with lots of goodies. Every participating child also got food and drinks, clothing materials, and a customized backpack filled with snacks.
The party was fun all the way.