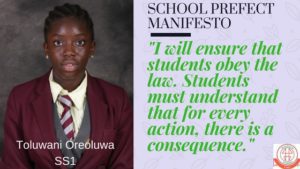 "Success is determined not by whether or not you face obstacles but by your reaction to them". – Ben Carson. My name is Oreoluwa Toluwani, an SS1 student and I am here to declare my manifesto for a school prefect position in Halifield Schools.
By the special grace of God, I am an academically sound student with an 85% average and a well behaved student. I must say, my behavior has matured as I have matured. This is because in my years as a student, I have made mistakes but also learnt from those mistakes.
MY PROMISE TO YOU
If I were to be a prefect in Halifield School, I would ensure good teacher-student relationships. With the help of my mentors, Mrs. Isibor, Mr Promise , Mr Kola, Mrs. Ayoola, Mr Abiodun and Mr Adepoju, I have understood the essence of this. They watched and nurtured me to who I am today by consistently checking up on and guiding me. I strongly believe that a good teacher-student relationship would ensure a smoother ride for students.
Where there is no law, there is chaos. Where there is disobedience of law, there is no law. As a prefect, I will ensure that students obey the law. Students must understand that for every action, there is a consequence. If students obey the law, there would be love. We must let Halifield's core values, SHEDDIC, guide us.
With the help of the management and staff, we (the prefects) would ensure a total stop of all immoral acts. This can be done by enlightening the students about the dangers of it. Ensuring that counseling becomes a norm is also very important. One on one session with the counsellor can bring about the change we demand.
I have been in Halifield School for seven years. I can vividly remember that our greatest joy in the elementary was being the first to say "Good Morning" to our teachers. We must ensure that this culture continues to strive in Halifield. As a prefect, I would ensure this.
"When all you have is God, you have all you need". A famous saying by our Head of Schools.  As a prefect, I would ensure that prayer and fellowship times are taken seriously. Students must understand that God is everything.
"Do your best and let God do the rest". Today, I promise you my best.
Thank you